Most business owners dread the words 'inbound marketing' Even those with a rough understanding of what it's all about tend to view it (at best) as an evil presence to be tolerated and (at worst) a monster to be wrestled to the ground. And who's to blame them? With so many channels to choose from and so many 'chores' to tick off, inbound marketing can seem like a drag.
---
But it doesn't need to be complicated or daunting. In reality, it all boils down to one simple question: What is right for my business?
The answer, clearly, depends upon the nature of your business and your target customers. Now here's the good news: for every business there's an ideal strategy waiting to be tapped into. And here's the crunch: regardless of your line of work (B2B or B2C), your business, like all businesses, will benefit from inbound marketing.
Let's go back the basics and examine the differences between outbound and inbound marketing…
Outbound marketing is the traditional way of marketing, where marketers try to find customers through telemarketing, cold calling, buying email address lists, handing out flyers, TV commercials and newspaper advertisements, etc.
With outbound marketing, you can't be sure if your target audience will hear your message or see your advertisement. You may end up throwing big money at your marketing efforts without knowing for sure that your activities are yielding results, as measuring the outcome is difficult.
Inbound Marketing is a form of digital marketing. This system was developed by HubSpot, the world's leading digital marketing platform. Inbound marketing is the most effective marketing method for doing business online. It works like a magnet – with the right content, you attract visitors and drive traffic to your website or ecommerce. Inbound marketing includes content marketing, blogging, email marketing, SEO, social media management and traffic analytics.
The whole inbound marketing process starts with the creation of a digital marketing strategy. The point of this is to identify your customer base or target audience. In inbound marketing terminology, I call this buyer persona definition. When you dig deep and spend time really getting to know your buyer persona(s), you greatly simplify your life later.
What's important is for you to 'inhabit' the world of your buyer persona, becoming clear on their interests, priorities, goals, needs and pain points. Next you identify your marketing triggers. Your job is to know precisely what events cause them to search for products or services like yours. This information can be then be used to create a list of keywords to be added to your communications.
Measuring the success of a strategy is fundamental to effective inbound marketing, yet most business owners choose to skip this rather tedious task and continue marketing 'blindfolded'. To be able to measure your success, first, you need to set your inbound marketing goals.
Next, it's time to outline your content strategy. In this phase, you'll need to decide…
what content to publish
which channel to use
what stage your buyer is at on their 'buyer's journey' (i.e. awareness, consideration, or decision-making?)
If your product or service is complicated or expensive to buy – not just a pair of slippers – you may also need to develop a lead nurturing process to guide your 'lead' through the sales funnel. Typically this involves a series of emails that will answer the most common questions potential buyers will have vis-à-vis your business.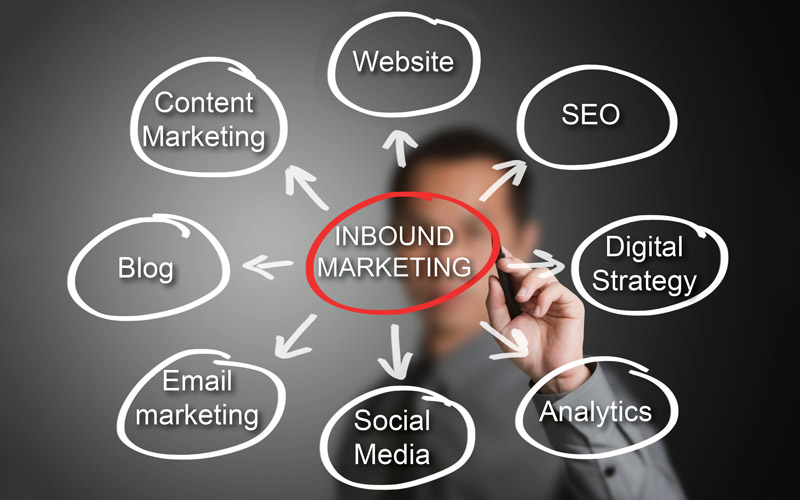 Blogs have a significant positive effect on customer experience and the search engine ranking of a website, so if you have the time, use this tool. A conversion-focused blogging strategy will attract highly relevant traffic to your website and convert visitors to qualified leads.
And that's more or less it. Follow these steps and you'll be left with a highly effective digital marketing strategy. All that planning and careful logging of goals, tasks, and channels will make the next step – implementation – both more time-effective and less stressful. When you know your buyer persona(s) inside out, the content practically creates itself…
But hey, wait – it sounds like a lot of work!
Don't panic – this familiarisation exercise can be done on many levels. Small business owners and freelancers can get started with some basic activities and build their online presence bit by bit in the following ways:
Identify how much time, money, and resources you can spend on your digital marketing
What tasks are you capable and willing to do yourself?
Find a reputable inbound marketing specialist who can help. This person can guide you through the inbound marketing process. Depending upon your needs, they can either do the work for you or teach you to master those skills.
Key elements of successful inbound marketing are:
Content: Content is king. There's no use publishing material just for the sake of it. Content needs to bring value to your buyers.
Consistency and regularity: You must publish your chosen content on a regular basis. If you decide to publish a blog post once a month, stick to this schedule. If it's an update on your social media account twice a week, make this happen. If you're short on time, publish less frequently but be sure your content is updated regularly and that it serves your purpose.
Perseverance. Inbound marketing is not a one-off trick and won't be an overnight success – results take time. Typically, you'll start seeing results after 2-3 months, with more website visitors and leads. In sales, you'll typically see an increase after 4-6 months.
Inbound marketing isn't difficult once you've understood the methodology and learned the basics about content creation, the best channels, and tools for you. In time, it'll become part of your routine – a task to be managed alongside all other daily jobs.